You are here:
Home
/
playa
Posts
Playa del Carmen is a city located along the Caribbean Sea in the state of Quintana Roo in Mexico. I can't get over this place. B-E-A-U-T-I-F-U-L.
1. How to get there?
– You arrive at Cancun International Airport – airport code: CUN
– Arrived at the airport? Passengers first clear Immigration then collect luggage for Customs and a possible inspection. Wait for instructions to press the red or green light that will determine whether you have been chosen for a search.
– Avoid offers for transportation inside the airport.
– To Playa Del Carmen, its around a 45 minutes to one hour drive (I arranged for a taxi pick-up from Cancun airport to Playa Del Carmen, driving is an option)
– Renting a car is a good idea for those who wish to tour areas such as Tulum, Cobá, etc. You must rent in advance and pick it up upon arrival. (contact us if you need us to help you reserve a car!)
Taxis:
Vouchers for taxis rides to Playa Del Carmen are on sale inside the main terminal.  Taxis are private rides (quoted prices vary from $60-$90).  Returning to the airport in a taxi is often less than the trip upon arrival.
(If you need further recommendations on what private companies to use for transportation, please feel free to drop us an email or contact us at our Contact Us form)
2. Where to Sleep?
Banyan Tree Mayakoba
The Fairmont Mayakoba

Grand Velas Riviera Maya

Pueblito Luxury Condo Hotel

Viceroy Riviera Maya
Blue Diamond Riviera Maya

Casa Rebeka – Ocean Front

Villa
3. Other than staying at the hotel all day and enjoying my friends/spouse/significant other.. What to do?
Cenote Chaak Tun (Cenote means the hole in the cave filled with water/ sink holes – you can swim)
Cenote Chikin Ha
Rio Secreto
Xcaret theme park (excellent for families too!) – Underwater Trekking is awesome!!!
Flyboard, and all other activities
See Playa del Carmen's main street, La Quinta Avenid. It runs parallel to the shore and serves as a pedestrian walkway
Diving tours (Playa is one of the best places on the coast to dive)
Xel-Ha day trip
Tulum Day Trip
Xplor Adventure Park
Go to Mamitas Beach during the day (Fun, music, sun)
Indigo Beach (beside El Taj Condo Hotel)
Take a boat and go Snorkeling in Isla Mujeres
Chichen Itza
For more, and personalized itineraries please drop us an email or contact us here.
4. Food
Diablito cha cha cha (loud, music, food) q
El Tacombie (tacos, not a restaurant)
Los Aguachiles (Mexican, seafood, casual but good food)
Yaxche (Mexican)
Chez Celine (Breakfast/Brunch)
Como Como (Mediterranean)

Mosquito Blue Restaurant
5. Other Stuff
– Whats near Playa Del Carmen?
Tulum
Cozumel
Akumal
Puerto Aventuras
– Withdraw money from a local ATM as you will get the exact current exchange rate. Almost all stores will give you an unfavorable conversion rate
– If you love snorkeling, purchase your own gear and bring it with you on vacation. At many locations you can snorkel right off the beach anytime you want, saving tour fees
– When going out, put your money in an inside pocket or pouch, where it isn't visible
– Phone? There is a "data" phone. I got mine from Mexico City, and used it in Playa Del Carmen and different parts of Mexico
6. Switch off your phone, switch on your camera, and e-n-j-o-y.

Hello965 Team
Playa de Ses Illetes – FORMENTERA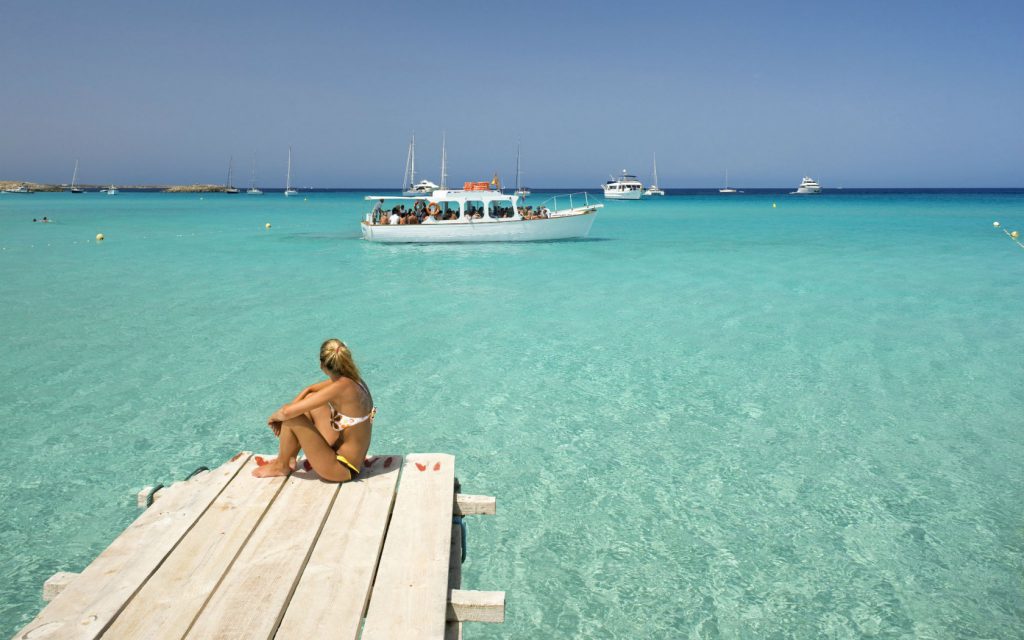 The island is surounded by crystal clear waters lapping the pink, coral-encrusted golden sand. Illetes beach is a superb place to swim, snorkel, chill out and relax.
Playa Arenales, ALICANTE
This warm-water beach is a few kilometers from Elche (Alicante) or even the city of Alicante. Although Spaniards think it had lost its charm because of the overcrowded buildings that were built for tourists, it still remains until today one of the most popular beaches in these two cities for its sandy and clean and so warm waters. In the summer months its considered to be the warmest throughout the Alicante coast.  It's also an area of ​​consistent waves, not high though not high.
Isla Canela, HUELVA
Isla Canela is a natural island joined by a bridge to Ayamonte (Huelva), a town with pure Andalusian charm, it has become a popular tourist destination for Spanish and Portuguese holidaymakers. It shares the charms of both Andalusia and the Algarve, and is set within an area of spectacular coastal scenery, with wide, sandy beaches, sand dunes and salt marshes.
Isla Canela is easily accessible from any part of Europe as there are two airports, Seville airport
(160 kms by motorway A-49 Huelva – Seville) and Faro airport in Portugal (50 kms crossing the international bridge that unites Spain and Portugal.
Playa de Bolonia – TARIFA
Little paradise. Not busy at all, lovely white sand and you can see the coast of Morocco.
Playa de las Catedrales – RIBADEO

Beautiful, Make sure you visit at low tide! Beware though…it gets VERY busy.
La Concha Beach – SAN SEBASTIAN

The jewel of San Sebastian, La Concha beach, recently ranked in the top 15 beaches in Europe according to TripAdvisor. There is no doubt; the charm of this urban beach is unique in the world and something everyone would absolutely appreciate.
La Caleta beach – CADIZ
Flanked by two castles, beautiful water with perfect temperature, excellent public showers and bathrooms. And this is a urban beach, next to the center of Cadiz.
Cala de Sa Calobra – MAJORCA
A very small beach with crystal clear waters, A MUST.
Cala de Algaiarens – MENORCA

On the north western side of Menorca Cala Algaiarens is between Cala Morell on the west and Cala Carbó on the eastern side. Cala Algaiarens is a large wide cove split into two medium sized golden sandy beaches known as Plaja des Bot on the eastern side and Platja es Tancats on the western side. Both beaches have calm protected sea and are shallow for quite a distance. It's a popular cove with the locals and tourists alike.
Perfect for families and kids!
Costa Blanca – BENIDORM

Known in Costa Blanca Benidorm are Poiniente Beach and Levante beach, first being quieter.
Nerja – MALAGA
Often referred to as 'The Jewel of the Costa del Sol'. Nerja is located 53 kilometres east of Málaga on the Costa del Sol and can be reached in about 40 minutes by car from Málaga airport or about an hour and a half by bus.
Cliff-edged Costa Brava
Costa Brava extends from Barcelona to the French border! There are so many beaches. Whatever kind of beach you love the Costa Brava has it all…
Long stretches of sandy beach (Roses, Empuriabrava, L'Estartit, Pals, Platja d'Aro, Lloret de Mar, Blanes…) perfect for a morning run with the dog, a long walk in the surf or watersports (like kitesurfing, windsurfing, water-skiing…)
Maybe you prefer romantic coves, that lie hidden and protected by pine groves that grow right down to the sea, the ones you stumble upon and have all to yourself (El Canadell, Cala Pedrosa, Cala El Golfet, Els Canyers…)
Or perhaps those fishing village beaches ( Sa Tuna, Tamariu, Llafranc, Calella Costa Brava…)
ENJOY!!!!!!!! xo
PS. Have you been somewhere you think is worth mentioning as one of the best beaches in Spain? Please share with us xx
Cheers,
Hello965 team